Pre-performance
On arrival we offer a variety of options, The Long Bar ideal for rendezvous with guests, serving alcohol, soft drinks and appetisers. The Garden Bar situated in the gardens offers a selection of drinks and snacks to purchase on the day (open in fine weather only).
Mildmay Tearooms offers afternoon tea either booked in advance or on a walk-in basis. In fine weather, we offer outdoor teas with tables/chairs and parasols to shade you from the summer heat. For more information on Afternoon Tea please click here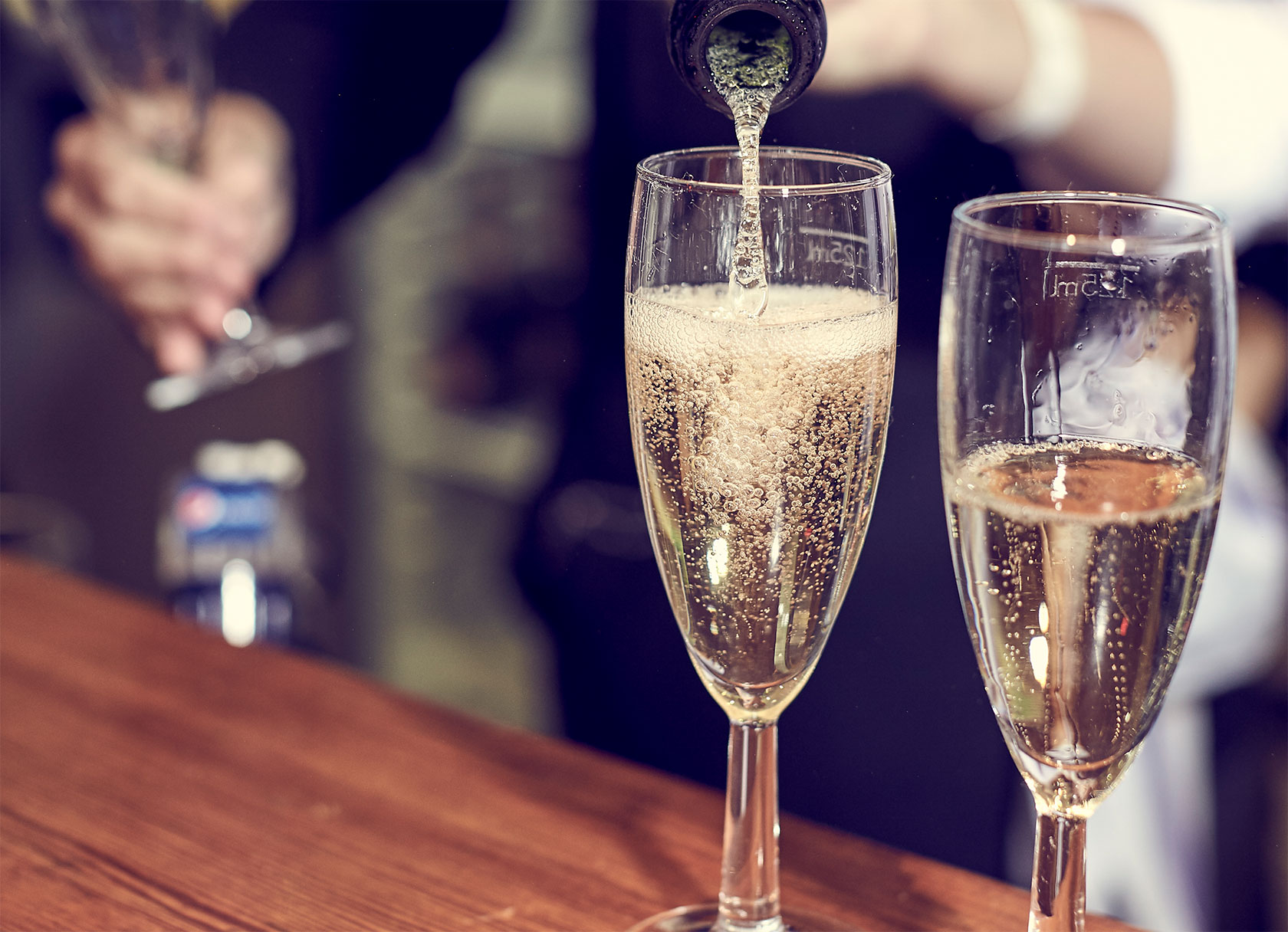 The Long Bar
Located between the Box Office and Glyndebourne Shop, the Long Bar is considered the best rendezvous to meet your guests. The Long Bar offers a warm welcome to all with a full range of Champagne, including Glyndebourne's signature champagne - a Premier Cru from the Monmarthe family, Pimm's, wines, beers, spirits, soft drinks, appetisers and sandwiches, teas and coffees all of which can be purchased on the day or pre-ordered in advance.
Tapas
By popular demand we are repeating out Tapas selection trialled last summer. Comprising Jabugo Ibérico Cebu de Campo Ham from Huelva and Brindisa Ibérico, Bellota Ham from Salamanca, these delicious nibbles will available to order at the Long Bar. To accompany them we will be serving smoked almonds and little cups of iced Gazpacho with stuffed Gordal olives. Prices are available at the Bar together with a list of Fino sherries from Corney & Barrow.
Appetisers (available to pre-order, or purchase from the bar on the day, subject to availability)
Marinated Kalamata olives £3.50
Mixed salted nuts £3.50
Cheese straws £3.50
Glyndebourne salmon canapés £12.50
Glyndebourne mixed canapés £12.50
(All canapé selections comprise 9 pieces)
Sandwiches (available to pre-order, or purchase from the bar on the day, subject to availability)
Inverawe smoked salmon, lemon dill butter £5.95
Hand carved rare British beef & horseradish crème fraîche £5.95
Free range egg & mustard cress £5.95
The Garden Bar
Glyndebourne's beautiful gardens with its stunning views of the South Downs can be enjoyed prior to the performance at our Garden Bar situated on the lawn, which opens in fine weather only. Here we offer a selection of drinks and snacks that can be purchased on the day. (Pre-ordered / pre-performance drinks are only available for collection from the Long Bar)
Available from the Garden Bar:
Pannier, Brut £55.00 per bottle / £9.20 per 125ml glass
Glyndebourne Sauvignon £24.95 per bottle / £6.25 per 175ml glass
Glyndebourne Merlot £24.95 for bottle / £6.25 per 175ml glass
Pimm's £22.50 per jug / £5.75 per glass
Marinated Kalamata olives £3.50
Mixed salted nuts £3.50
Inverawe smoked salmon sandwich with lemon dill butter £5.95
Afternoon tea cake £4.00
English strawberries and cream £5.50